Travel sustainably in the Lahti region
In the Lahti region, you can experience pure and diverse nature sustainably. Taking care of nature and lakes is a goal shared by everyone in our region. Lahti is Finland's leading city when it comes to environmental issues, a frontrunner in climate work, a pioneer in sustainable and smart solutions and the European Green Capital 2021.
Lahti – The European Green Capital 2021
Lahti is the first Finnish city to be appointed as the European Green Capital in 2021. This is an acknowledgement of the work Lahti has done for decades to develop into a more environmentally friendly and sustainable city that belongs to everyone.
Lakeland Finland – Sustainable Destination Congress 18.1.2021
Read more
Tips for sustainable tourism
Lahti is a city of bold environmental actions. The nature conservation work regarding Finnish Lakeland and Lake Vesijärvi has been ongoing for decades, bringing with it unique environmental expertise to the city. Our tap water, naturally filtered pure by the Salpausselkä ridges, is the best in the world! The Lahti region provides a stunning setting for enjoying the great outdoors and clean nature. Walking, cycling, low-emission taxis and public transport are all great options for getting around Lahti! Spend your night at a hotel or cottage with environmental certification and enjoy clean and delicious locally sourced food! The Lahti region is the choice of travellers who are environmentally conscious!
Something for all the senses!
The Lahti region provides a stunning setting in which to enjoy nature at its freshest and purest! Head to Salpausselkä Geopark—formed by the last Ice Age—that is currently applying for a UNESCO Global Geopark status. Or perhaps you would prefer Päijänne National Park, which consists of protected esker islands and is also part of Salpausselkä Geopark.
The nature conservation work regarding Lake Vesijärvi has been ongoing for decades. We recommend popping by the Lahti harbour that has been completely transformed from a heavy-industry port into an oasis for Lahti's residents and tourists alike.
The Lahti region also offers great opportunities for sustainable shopping. For instance, the collection of the Cocoonhouse women and children's clothing boutique is made almost entirely in Lahti from ecological and primarily Finnish materials. Also MariMari, a local women's clothing and lifestyle boutique, has a collection made in Lahti from GOTS certified organic cotton. If you're looking for genuine and pure locally produced food, visit one of the local farmers' markets, such as Heila, Iitti Farmers Market and, in the summer, Kinnari Farm, which has been awarded the Nordic Swan Ecolabel.
Sustainable accommodation in the Lahti region
Hotels and cottages must comply with strict regulations in order to receive environmental certification. These include sustainable waste management, water and energy consumption and environmentally friendly suppliers.
In the Lahti region, one company offering accommodation with environmental certification is Tervalepikon Torpat. Comfortable cottages are available in Sysmä, in the vicinity of Päijätsalo and Päijänne National Park.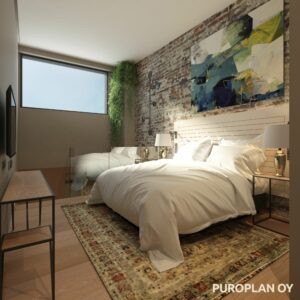 In Lahti city centre, you can enjoy a great night's sleep in the sustainable Solo Sokos Hotel Lahden Seurahuone, which has been awarded the Green Key certificate, and GreenStar Hotel Lahti, which has the Nordic Swan Ecolabel. Apartment hotel accommodation with environmental certification in the district of Puu-Paavola in Lahti is provided by Avano Dreams.
The Lahti region serves pure local food and the best tap water in the world!
It's easy to choose local delicacies from farmers' markets and farms, bakeries and breweries. Farmers' markets and farm shops, such as Heila and Iitti Farmers Market, offer local flavours and the best seasonal produce directly from farmers!
Sustainability and environmental friendliness are aspects local cafés and restaurants have also taken into account. One example of this is lunch café MeaManna in Lahti, which serves delicious organic food and cakes. MeaManna pays attention to sustainability, and dishes are cooked from healthy, local ingredients. The café also serves as a workshop for adults who need special support.
The world's best tap water that has been naturally filtered by the Salpausselkä ridges is an everyday luxury for those living in the Lahti region. No wonder the Lahti region is the home of whisky distillery Teerenpeli, berry wineries Pihamaa and Ainoa and several breweries! In Lahti, you can also find coffee roastery Kahiwa, which always buys coffee beans directly from farmers when possible to ensure that compensation also reaches the right people.
Did you know that Solo Sokos Hotel Lahden Seurahuone's breakfast and brunch specialises in local produce? And don't forget to explore local flavours and seasonal delicacies by tasting the Vellamomenu offered at several different Lahti region restaurants!
Sustainable transport in the Lahti region
Short distances and well-maintained bike and pedestrian paths make walking and cycling an appealing alternative when getting around Lahti. The Lahti region also offers great cycling routes!
Did you know that the Lahti region's public transport buses have the lowest emissions in Finland? You can order a low-emission taxi with a Green Capital logo from Lahden Aluetaksi!
As the first city in the world, Lahti has launched an app for residents for their personal transport emissions trading. The CitiCAP app you can download for your smartphone encourages sustainable modes of transport: walking, cycling, public transport or even skiing if that's your cup of teathing! Download the free CitiCAP app from Google Play Store or AppStore.
Seven environmental facts about Lahti
01

Lahti will be a carbon-neutral city by 2025 as the first major city in Finland.

02

The success story of Lahti as a pioneer in environmental expertise stretches back all the way to the 1970s and the restoration of Lake Vesijärvi.

03

Thanks to the long-term development of waste management, Lahti has new kinds of jobs in circular economy companies, and as much as 97% of household waste is recovered.

04

Lahti has already cut down its greenhouse gas emissions by 70% compared to the level of 1990.

05

In Lahti, public transport is carried out with a bus fleet with the lowest emissions in Finland.

06

Lahti is the first city in the world to introduce personal transport emissions trading for its residents.

07

Lahti aims to become a waste-free circular economy city by 2050.
Travel safely in the Lahti region during the Covid-19
We welcome you to visit our area and enjoy our splendid travel services and unique nature activities. In order to make your visit safe we have gathered here few safety guidelines.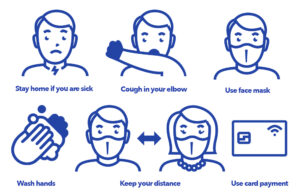 The travel services in the Lahti Region have now predominantly reopened after the lock-down and are now paying high attention to your safety. In our region it is easy to respect the requirements of social distancing. Especially the cottage life, nature sites such as Salpausselkä Geopark sites as well as outdoor activities are recommended during your visit in our region. We also recommend you to download the Koronavilkku app. It is a contact tracing smartphone app produced by the Finnish Institute for Health and Welfare (THL) to help you find out whether you may have been exposed to coronavirus.
Practical information for travelers to Finland during the Covid-19 pandemic
General information about the social distancing and requirements of wearing masks in the public transport. You can reach Lahti Region from the Helsinki Airport by your own car or by bus and train. The eastern boarder with Russia remains closed for now.
Latest updates about the Covid-19 situation in Finland
Technical Visits to Lahti – European Green Capital 2021
Visit Lahti organises professional, so-called techical visits, for companies in the region in cooperation with the Sustainable Lahti Foundation. Guided tours are organised in particular in companies pioneering in environmental work and clean tech businesses in Lahti that are among the elite in their industry. On your visit, you will get to know the solutions of the City of Lahti and the ground-breaking environmental actions of city-owned companies and local businesses. Destinations include Päijät-Häme Waste Management Ltd, Lahti Energia, Lahti Aqua and the Lahden Talot rental housing provider. Please fill in the adjacent delegation visit form to book a visit.
Book your technical visit here
Lahti Region Ltd is committed to sustainability and environmental work
Lahden seutu – Lahti Region Ltd has been awarded the EcoCompass environmental certificate. EcoCompass is an environmental system with 10 criteria on the basis of which companies manage their environmental responsibilities and operate sustainably. As a regional tourism organisation, Lahden seutu – Lahti Region Ltd wants to encourage other companies and partners with its operations to develop their own operations according to the principles of sustainable development. Lahden seutu – Lahti Region wants to set an example.
Our region is applying to become a sustainable tourism destination in Visit Finland's Sustainable Travel Finland programme, and we encourage companies in the region to apply for certificates that support sustainable tourism. In practice, the sustainable operations of a tourism industry business mean minimising food waste and waste in general, using environmentally friendly detergents and supporting the local economy by using local raw materials, ingredients and services, among other things.
An important incentive is the development work of Salpausselkä Geopark. The geopark created together by six municipalities is applying for UNESCO Global Geopark status. In the Global Geopark network, members strive to promote sustainable tourism and other sustainable development goals in the UN Agenda 2030. The expertise of the Salpausselkä Geopark unit supports our regional organisation on the development path of sustainable tourism.