Skiing season is here!
The first snow ski track in Lah­ti is now open. On winter season there are over 180 kilometres of maintained and partly lit skiing tracks available in Lahti and Hollola, in the area of Salpausselkä.
There are also 2 downhill skiing centres in the Lahti region – Messilä Ski Centre is the largest ski resort in southern Finland and perfect for families.
First snow ski track in Lahti
Lahti's first snow ski track at the foot of the jumping hills is now available for skiers. With last winter's snow, the length of the ski route is about 2 kilometers, but as the winter progresses, more ski kilometers are added quickly.

The outdoor recreational area of Salpausselkä has several maintained exercise trails and an extensive network of forest paths. Ski tracks of city of Lahti and municipality of Hollola are connected on Salpausselkä Ski route network. Salpausselkä UNESCO Global Geopark – Landscape created by water. Read the story of the best-known geological entity of Finland.
Salpausselkä cross-country skiing tracks on a map
Where to park?
When arriving by car to first snow ski track in Lahti, the easiest way to park is at Suurmäenkatu parking place near the ski jump and at the old racetrack in Lahti.
Later on winter season:
Skier's services at Lahti Sports Centre
Changing rooms and showers at Lahti Sports Centre are available for skiers. Changing rooms are open on Mon–Fri 08:00–20:00 and Sat–Sun 09:00–15:00. The facilities are located in the main grandstand building of the Lahti Stadium, address Salpausselänkatu 8, 15110 Lahti.

Please note, there is no ski track connection from Lahti sports centre to first ski track. You can either walk with skies to the foot of theski jumping hills or drive by car to direct to Suurmäenkatu parking.
Ski Rentals
CustomSki rental close to ski jumps, Lahti
SkiMac rental in Messilä ski resort, Hollola
Skier's sports resort – Vierumäki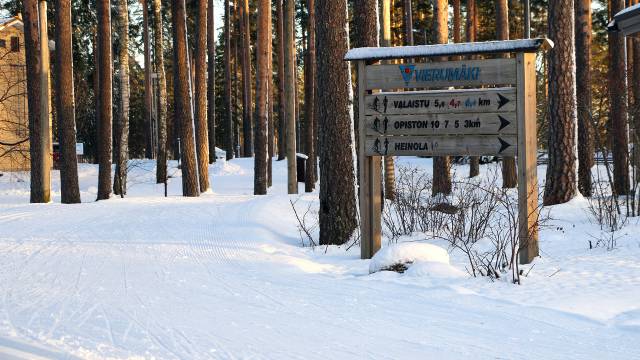 Great sports facilities, instruction from professionals, meals cooked ready and sufficient rest – couldn't sound better! Vierumäki Sports Institute located within 40 Minute drive from the Lahti city center, provides great settings for individual training as well as instructed sports holidays.
The season for cross-country skiing starts at Vierumäki on Nov 18, 2023.
More about Vierumäki
Messilä Ski Centre
10 slopes and 70 km of ski tracks – Messilä is the largest ski centre in Southern Finland. The charming Messilä manor is the heart of the ski centre, and a great view opens up towards Lake Vesijärvi from the top of the slope. Ski school, ski rental, hotel and cottage accommodation and restaurants also available. Messilä is located within 10 minutes drive from Lahti.
Address: Messiläntie 308, 15980 Messilä
More about Messilä
Purnu Ski Resort, Hartola
Purnu ski resort in Hartola is a 100-metre-high ski resort for the whole family. In addition to the slopes, there are lit ski routes and a caravan park.
Address: Tohtaantie 68, 19600 Hartola
Purnu (only in Finnish, sorry)