Lakeland Finland starts here
Have you noticed that when seen from the south, Lahti is the first real lakeside city and Lake Vesijärvi is the most southern body of water in Lakeland Finland? The heart of Lakeland opens up from Vesijärvi through the Vääksy canal: Lake Päijänne, which provides drinking water for one million Finns.
Here, you can dip your feet in true water of Lakeland Finland!
Experience three unique canals
The Kimola canal, opened in the summer 2020, Vääksy with its surrounding lovely sights, restaurants and boutiques of Old Vääksy and Kalkkinen village with its winery and berry farms are all excellent destinations for a cruise and a fun day out.
Read more
Cruise, SUP, fish! Explore Lakeland Finland.
Popular destinations by water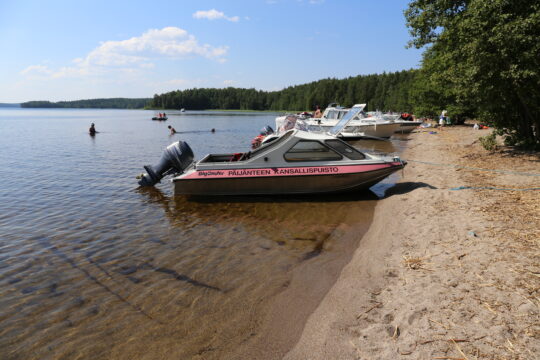 Kelvenne – an Ice Age miracle
A true gem of Salpausselkä Geopark and Päijänne National Park is Kelvenne esker island stretching almost eight kilometres. Its lagoon-like sandy beaches invite you to take a dip in the clear waters of Lake Päijänne. A nature trail runs from one end of the island to the other, and there are several camping and campfire sites along the trail. You can reach the island on a cruise boat from Padasjoki marina or a taxi boat from Padasjoki or Lehmonkärki Resort.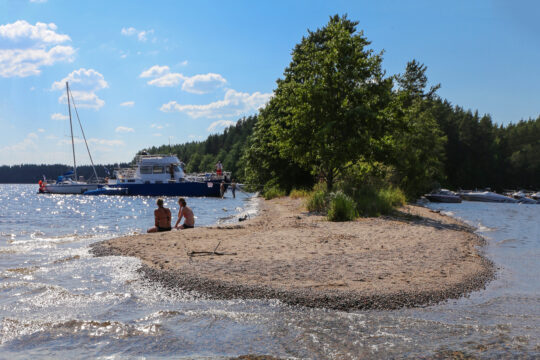 Lietsaari – a paradise island on Lake Päijänne
Lietsaari is a small but unusual island in Päijänne National Park, next to Kelvenne island. The highlight of Lietsaari is its narrow cape with fine sandy beaches. When you dip your feet in the water on the sandbanks of the cape, you are transported to a magical land. You can reach the island on a taxi boat from Padasjoki or Lehmonkärki Resort.