Getting here
Lahti Region is easy to reach. The city is located less than an hour from Helsinki Airport by train or car, and an hour from the harbours and downtown of Helsinki. Built in connection with the Railway Station, Lahti Travel Centre  is the transport hub of the region bringing local and long-haul traffic and different modes of transport together seamlessly.
On this website you'll find useful information how to get to Lahti region.
Travel times to Finland and Lahti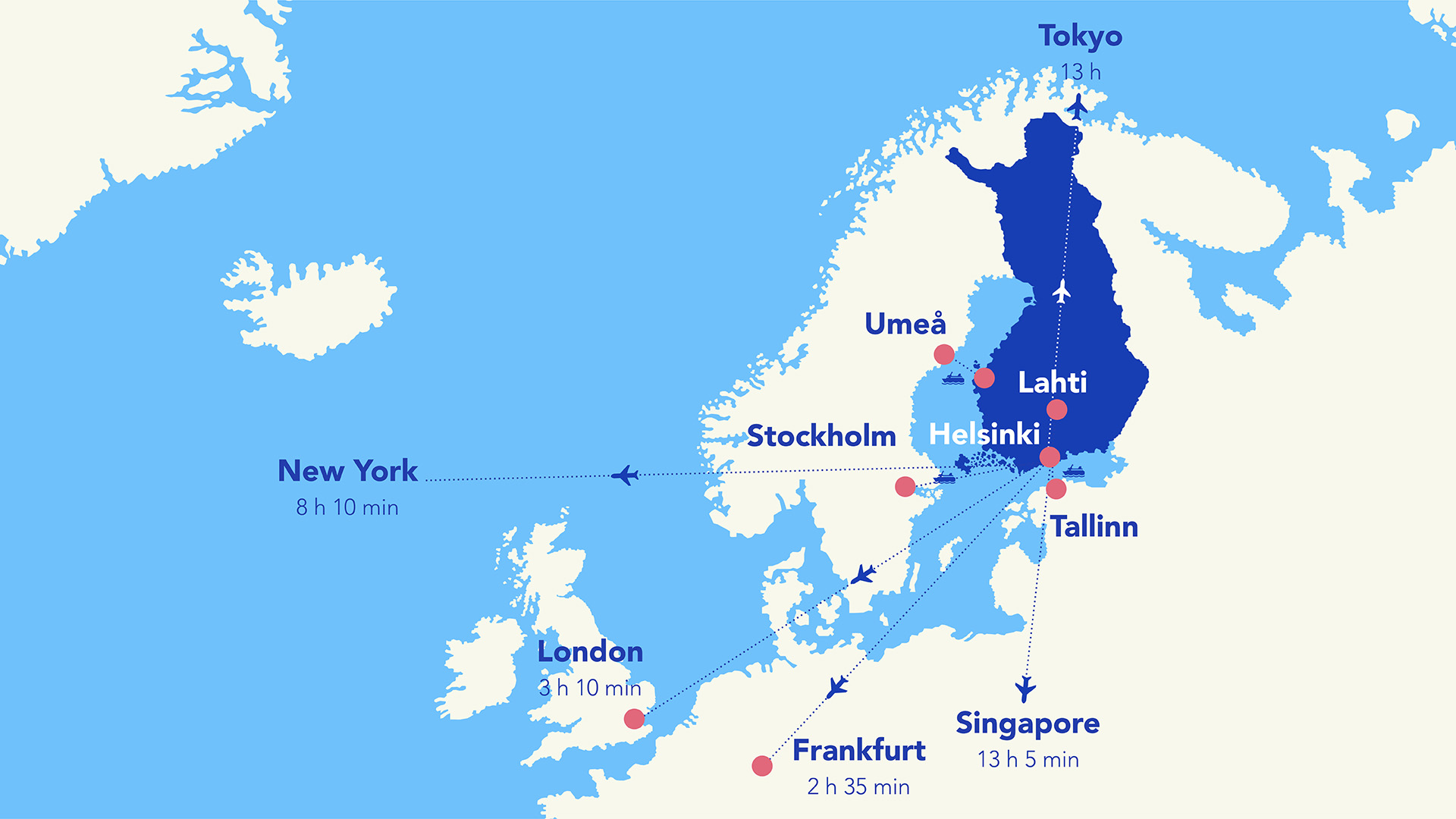 Train connections from Helsinki Airport to Lahti
After landing in the Helsinki airport, you can easily walk from the arrivals hall to the airport's railway station and stay indoors the entire way. The fastest connections from Helsinki Airport to Lahti take less than an hour with a change in Tikkurila.
Check timetables and buy a ticket
Finnlines Ferry to Helsinki or Naantali
Finnlines offers ferry trips from Germany to Helsinki and from Sweden to Naantali. Pack your car and drive onboard. Ports are conveniently located; the port of Helsinki approximately an hour's drive from Lahti and Naantali is about 3 hours away.
More about Finnlines
Train all the way!
Long-distance transport
All long-distance passenger trains stop at Lahti.
Lahti Railway Station is located in the Lahti Travel Centre, which means that changing from train to bus couldn't be easier. The Travel Centre is located only a few minutes' walk from Lahti city centre.
Commuter trains
You can reach Lahti once an hour on Helsinki Regional Transport's Z commuter train. The journey from Helsinki along the fast track takes an hour.
Regional trains (H trains) travel from Lahti in the directions of Riihimäki–Helsinki and Kouvola–Kotka. They stop at most stations along the way.
Check timetables and Buy a ticket
Bus connections to Lahti
Lahti has excellent bus connections from the Helsinki metropolitan area as well as elsewhere in Finland. Lahti Bus Station is located in the Lahti Travel Centre together with Lahti Railway Station.
Check local charter bus companies here.
Check timetables and Buy a ticket
Rental cars
Finland is a large and sparsely populated country – it's easy and comfortable to drive here. Finland has right-handed traffic.
Rental cars in Finland:
Europcar
Scandia Rent
Rentalcars.com
If you're renting a car, consider choosing an electric vehicle – there is a network of charging stations listed on Latauskartta.fi.
There are also electric Sharing cars available in Lahti. The pick-up points are located in the city centre area.
Easy to access by car
Finland's roads are typically in good condition and there are zero toll roads or bridges in Finland. The speed limit in Finland is 50 km/h in built-up areas and 80 km/h outside of them. Both limits are typically enforced if there is no other speed limit posted. On major highways in summer, you can drive 100 km/h. On motorways, the summertime limit is 120 km/h.
The Lahti region is along excellent traffic connections and easy to reach from all directions.
When arriving from the south, you will travel along the Lahti main road (highway 4), which becomes a motorway (E75). E75 continues past Lahti towards Jyväskylä.
When coming from the north, the motorway E75 leads you to the Lahti region. Main road 24 takes you to the Lahti region through the stunning scenery of Padasjoki and Asikkala.
When arriving from the east on main road 12, you will land directly in the city centre from where the road continues towards Tampere.
When coming from the west on road 12, it changes into Hämeenlinnantie when you enter the Lahti region. The main road runs through the city and continues towards Kouvola.
Distances from Lahti:
Helsinki 104 km
Jyväskylä 170 km
Tampere 128 km
Kouvola 63 km
Guide to driving in Finland
Taxi services and charter buses in the Lahti region – Call or download the free app
Getting around – Lahti Region Transport (LSL)
Local and regional bus transport is carried out by LSL. The blue LSL buses drive by the Kauppatori market square and the Travel Centre.
Use the journey planner and check timetables on a website or buy a mobile ticket from an app you can download from App Store or Google Play.
For visitors and tourists, the easiest way to get around is to pay with contactless card, mobile tickets (app) or day tickets.
Public transport in the Lahti region
Parking in Lahti
Parking is pretty easy in Lahti, even in city center there are parking areas on the sides of the roads. During the longer stay, we'll recommend parking halls. The largest parking halls are P-Tori, P-Silta and P-Kartano in the city center. Check Lahti City Parking Guide (pdf) here. Remember to pay your stay!
More about parking in Lahti
Passport or Visa
You need a valid national passport or another equivalent that satisfactorily establishes your identity and nationality. If you aren't a citizen of Finland or another European Economic Area (EEA) country, you may also need a visa. Please check with your local Finnish Embassy, and they'll be happy to help you.