Fazer Mylly invests in oats and new food innovations in Lahti
Half a century of Fazer Mylly
Fazer Mylly turned 50 years old in 2021. Originally, the mill was established to meet the internal needs of Fazer bakeries, ensuring supply reliability and high-quality flour. In the early 1990s, sales expanded beyond the company's own bakeries, and since then, the growth has been strong. Starting from the early 2000s, Mylly began to invest not only in wheat and rye but also in bakery mixes and bread improvers. In 2013, the first oat mill was established in Lahti.
Lahti was a natural location for the mill, as Fazer had acquired the Oululainen bakery from here in the 1950s. Lahti and the Päijät-Häme region have traditionally been significant areas for grain cultivation, and at Fazer Mylly, everything starts with grain.
Fazer Alku – oat products from Lahti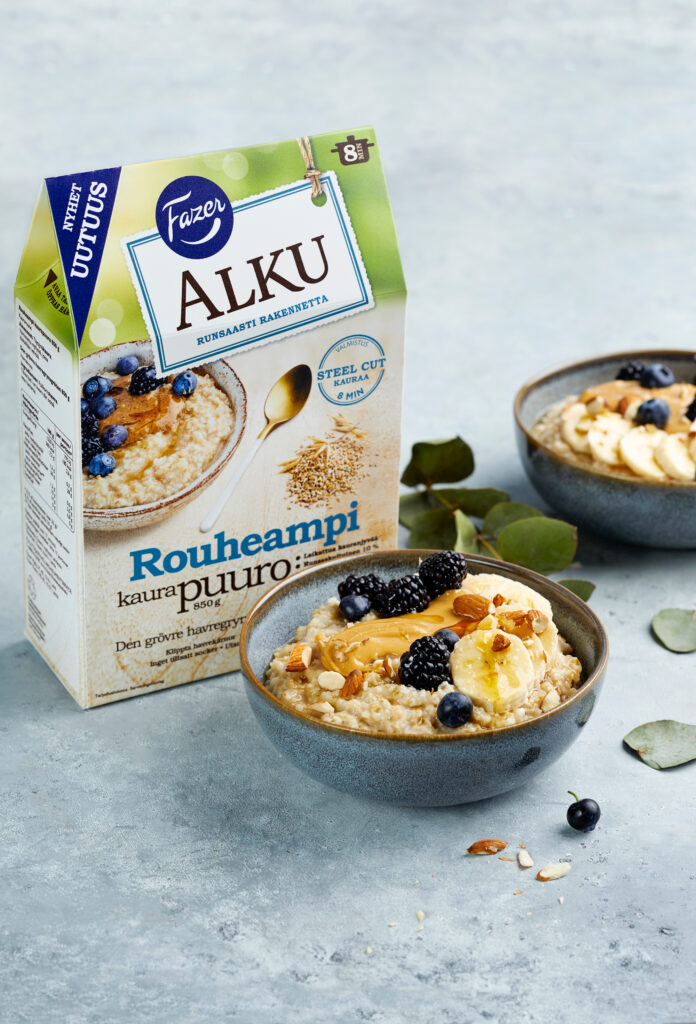 Fazer recognized the increasing demand for oats well in advance, and at Mylly, they invested in their own product development. In 2014, the Fazer Alku oatmeal brand was launched, and it was warmly welcomed in the market. The following year, Fazer Alku Sadonkorjuupuuro (Harvest Porridge) was chosen as the Finnish Food of the Year.
The Fazer Alku product line has grown annually with new oat products, and this year, several new products were introduced to the market, including the Fazer Leipurit Kotileivontasarja (Home Baking Series), with the oat-cranberry bread being particularly popular among home bakers. Among the new innovations, branded oat products such as the delicious and tempting Fazerina granola have also been introduced.
It all starts with the taste. Additionally, oats are known for being highly nutritious.
We interviewed Jarkko Arrajoki, the CEO of Fazer Mylly, and asked him about the secret to the success of Fazer's oat products. "It all starts with the taste," Arrajoki states, and continues, "Additionally, oats are known for being highly nutritious. The European Food Safety Authority (EFSA) has granted a health claim to beta-glucan, a substance found in oats, stating that daily consumption of oats helps maintain healthy blood cholesterol levels. Furthermore, the beta-glucan in oats helps keep blood sugar levels more stable after a meal. The fiber in oats also promotes healthy digestion."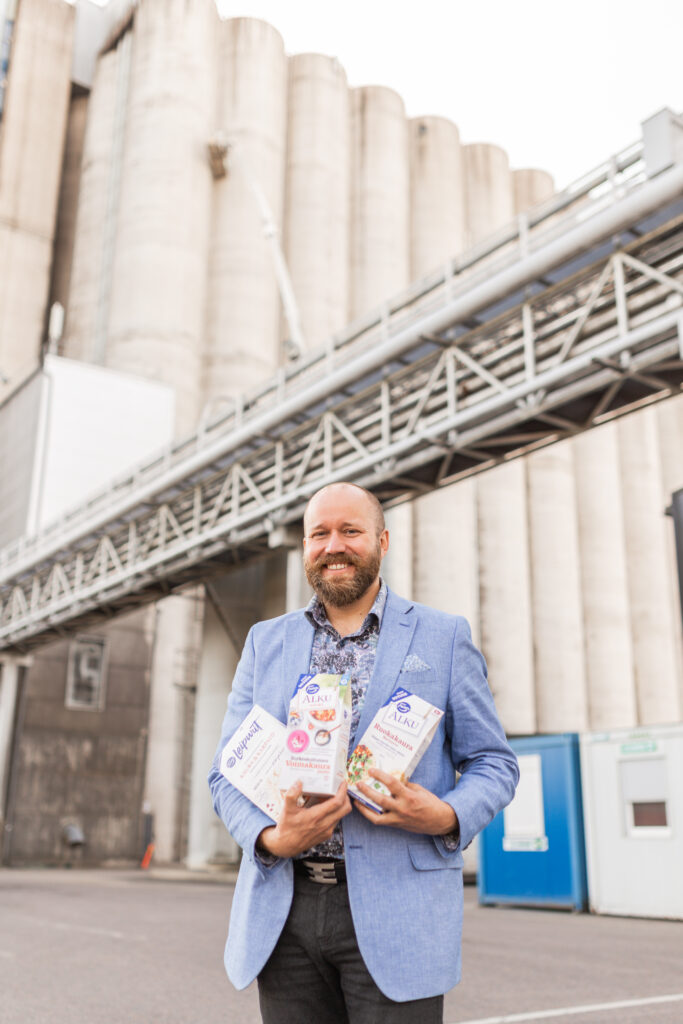 CEO Arrajoki prefers to prepare chicken and rice for dinner, but he replaces rice with – how else – Fazer Alku's food oats. For indulgent moments, he chooses an oat drink flavored with Dumle, a popular Finnish toffee candy.
Oats as part of sustainable development
Increasing the use of oats is also part of Fazer's sustainability principles. "At Fazer, we believe that food production is not a problem but rather part of the solution. We aim to produce more plant-based foods, reduce food waste, use fewer fossil fuels, and invest in a responsible supply chain. All these principles are implemented here in Lahti. We are constantly introducing more domestic plant-based products to the market and encouraging and educating our contract farmers to produce raw materials according to sustainable farming practices. Additionally, we utilize all parts of oats: our new xylitol factory produces xylitol from oat husks, and the residue from that process is incinerated by Lahti Energia, providing us with the necessary district heating and steam for the mill," explains Arrajoki.
Oats are Nordic gold
Fazer Mylly's production designer, Mikko Heino, is also a professional oat miller. Fazer Mylly in Lahti employs over 80 people. The number has doubled in the last ten years, coinciding with the continuous growth in demand for oats. In the autumn of 2021, a new oat mill was opened, allowing for a doubling of oat production capacity.
The production of oats involves several stages, including cleaning, sorting, dehulling, and heat processing. Steam is used for heat processing, improving the taste and shelf life of the dehulled oat grain. Additionally, steam is required for oat flaking. At Fazer Mylly, various oat products are manufactured, including different types of flakes, bran, and flour. The process also separates various components of oats, such as oat oil, protein, and beta-glucan.
Additionally, Fazer's new xylitol factory will start its operations in Lahti this year. Xylitol is produced from a byproduct of the mill, oat husks, which were previously used only for energy production or animal feed. Next to the xylitol factory, Lahti Energia is constructing a bio-heat plant, which will utilize the byproducts from Fazer's production facilities in the Lahti area as fuel. The bio-heat plant will also provide steam for the mill in the future.
Working at the mill is enjoyable in everyday life when you can see the company growing and evolving, and you can personally be a part of that development.
Mikko Heino describes that Finnish oat quality is highly valued in other parts of the world. In our northern conditions, we produce high-quality oats with a distinct taste, golden yellow color, and a clean image. From Fazer's perspective, Lahti has an excellent logistical location, and Päijät-Häme provides perfect growing conditions for oats – excellent groundwater, snowy winters, and bright and warm summers. "Working at the mill is enjoyable in everyday life when you can see the company growing and evolving, and you can personally be a part of that development." Mikko's personal favorite product is Sadonkorjuupuuro (Harvest Porridge), which is one of the first products in the Fazer Alku product line.